instead I am going to post about how I hope my kids turn out. I love the blind guy and surfer dude on Expedition Impossible. Here is a bio about the show, if you watch it you can just skip this part. . .
About the Show
Are you ready for an adventure of epic proportions? Then brace yourself for Expedition Impossible. 13 three-person teams find themselves racing across vast deserts, over snow-capped mountains and through raging rivers in the beautifully exotic, fabled Kingdom of Morocco.

Each week, a new stage of the expedition will be revealed to the teams. Will they crumble under the pressure of life in the wilds, or will they find a way to work together to complete their incredible journey?

After 10 stunning legs of competition filled with drama, laughs and memorable characters, one team will cross the finish line to claim victory. Each winning team member gets $50,000 (that's $150,000 total for the team) as well a new Ford Explorer. Excellent!

Expedition Impossible comes from Executive Producer Mark Burnett, whose hits include Shark Tank, Survivor and The Apprentice, just to name a few. Lisa Hennessy also serves as Executive Producer for the series. The show promises to have lots of human drama to accompany all the high adventure.

Adventurer, zoologist, big cat trainer and all-around risk-taker Dave Salmoni hosts the show which premieres on Thursday, June 23 (9:00-10:00 p.m., ET) on ABC. Buckle up! This is going to be one heck of an expedition!



So my favorite people ever is team No Limits. The ABC website can describe them better. So here it is:
Team Bio
TEAM: NO LIMITS

Erik Weihenmayer, Age: 42
From: Golden, CO
Occupation: Motivational Speaker/Writer

Jeff Evans, Age 41
From: Boulder, CO
Occupation: Motivational Speaker/Physician Assistant

Aaron "Ike" Isaacson, Age 33
From: Topeka, KS
Occupation: Soldier


Friends Erik, Jeff and Ike stick together during both good times and bad. Erik became blind at an early age but didn't let that get him down. In 2001, he reached the summit of Mount Everest. Jeff serves as Erik's "eyes in the field." He has been Erik's primary climbing guide for over 20 years and is a published author and motivational speaker. Ike is a combat engineer officer in the military, earning two Bronze Star Medals, a Purple Heart and an Army Commendation Medal, among others. He has served in Iraq and Afghanistan and will deploy again to Afghanistan after completing Expedition Impossible. We can't wait to see these guys in action.
Now that the info is over, I will tell you that I cry during every episode. I thought more people watch this show, but I don't know anyone else besides my family. I seriously get choked up every single time I watch. I love Erik the blind guy and his friend Jeff. Jeff seems like a total surfer dude. The faith that Erik has in Jeff is amazing. Jeff just says "grab on" and off they go. Erik is completely awesome.
To be blind and do the things he has done. Here is one example. This was actually the best episode. Check this part out.
Isn't he incredible? You can tell he is nervous, but he just trusts that is friend will have his back. There was another time this episode that they had to ride a zip line. I can't find a clip, only a photos of it but Erik was riding down it waving his cane back and forth so he would have a little (maybe 1 second haha) warning.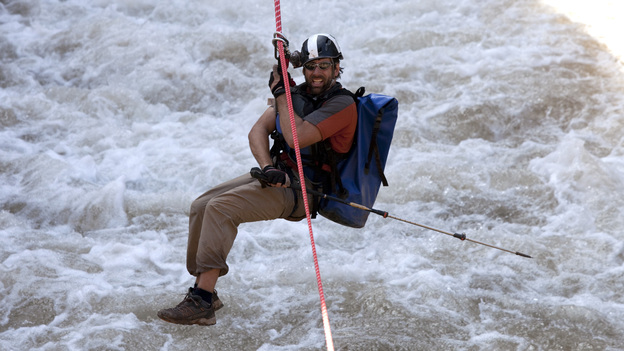 I love that Jeff just runs with the disability. It doesn't slow them down. I really hope my children can be that understanding and caring for people. I also hope they have as much faith and trust as Erik has. I have been thinking of this post all day and now that I sit down to write it, it is not coming out as well as it was in my head.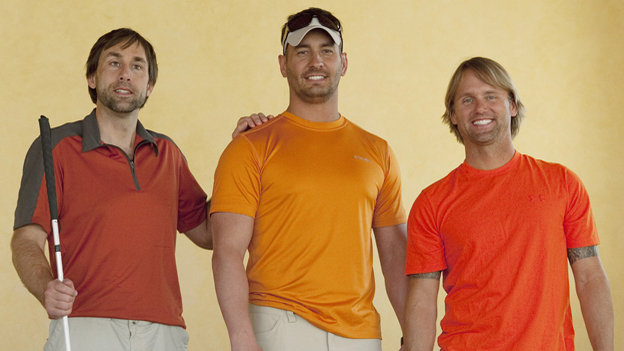 Erik, Ike, then Jeff.
**Spoiler Alert** So a few episodes back, their partner Ike, hurt his ankle getting into a car. He rolled it stepping off the curb. So, now this team has a blind man and an injury. Jeff is so amazing. They just keep trudging along. They were almost out of it, but another team didn't understand what they were supposed to do so they were following other teams. Team no limits thought they were out but they were going to finish anyway but when the other team wanted to follow them, team no limits were incredible. They just did it. There is Jeff pushing his team. You will have to watch it to see what happened!!!! But lets just say my whole family was jumping up and down and I was crying.
Ok, so I am not doing a great job of telling you about this show, but I definitely recommend heading over to ABC.com or Hulu and watching this show. I just hope and pray my children and me can grow up to have so much faith and trust.